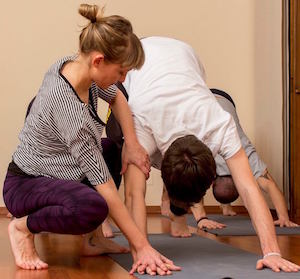 The Beginner Yoga Course is a great way to start!

6 classes + 2 free trial classes
BOOK NOW

This program is for those new to yoga or for anyone interested in reviewing the basics of yoga practice. We focus on the founding principles of breathing, alignment, on muscle strengthening and basic poses/asana alignment, simple dynamic sequences/sun salutation.
At Casa Yoga we devote much care to teaching the foundations of Hatha Yoga before introducing new students to faster sequences/vinyasa or mixed level classes. With a group of max 15 students, the teacher can give attention to individual needs with adjustments and leave space for questions.
The course is structured with a progression of learning, it is therefore requested to attend all 6 classes. After that, you may attend 2 classes from our weekly classes choosing among different hours, styles and levels.
Registration fee: 150€+5€ annual membership.
Payment in advance: online with Visa/Mastercard or cash at the studio by setting an appointment.
Calendar and reservations: workshops.