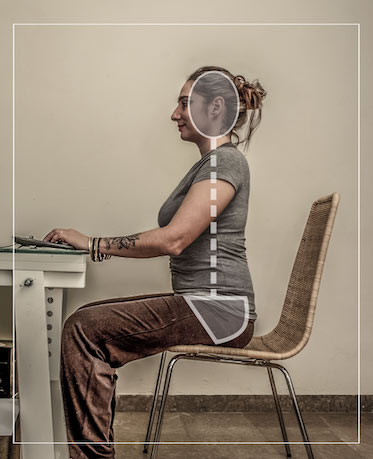 Computer Posture Perfect
Workshop with Erifily Nikolakopoulou
The computer user's ultimate toolkit.
This workshop is not designed to give you momentary relief but to provide you with the knowledge and specific tools to actively transform your daily desktop routine. Using exercises from Yoga, the Feldenkrais Method and the Roll Remedy (a guided practice of self-massage) we will discover ways to become more conscious of our posture as well as practical mini-routines to release tension safely and effectively during or after a busy day.
Participants will receive a handbook with the workshops exercises.
Registration: 40€ (includes manual)

Erifily Nikolakopoulou (Athens) slowly migrated from more extrovert and visual oriented aspects of movement like dance to more subtle and therapeutic methods, first getting certified as a yoga teacher from Kripalu (MA, USA) and then as a Feldenkrais practitioner (Basel IV). Currently, her path has lead her to focus on the body/mind connection which is why she is studying Shinzen Young's Basic Mindfulness program. Her goal is to provide people with the necessary tools to improve their relationship with their bodies and improve their quality of life. http://atomstudio.gr/